A few photos and brief overview of our 2017 Grand Canyon River Trip
Photos contributed by 2017 expedition participants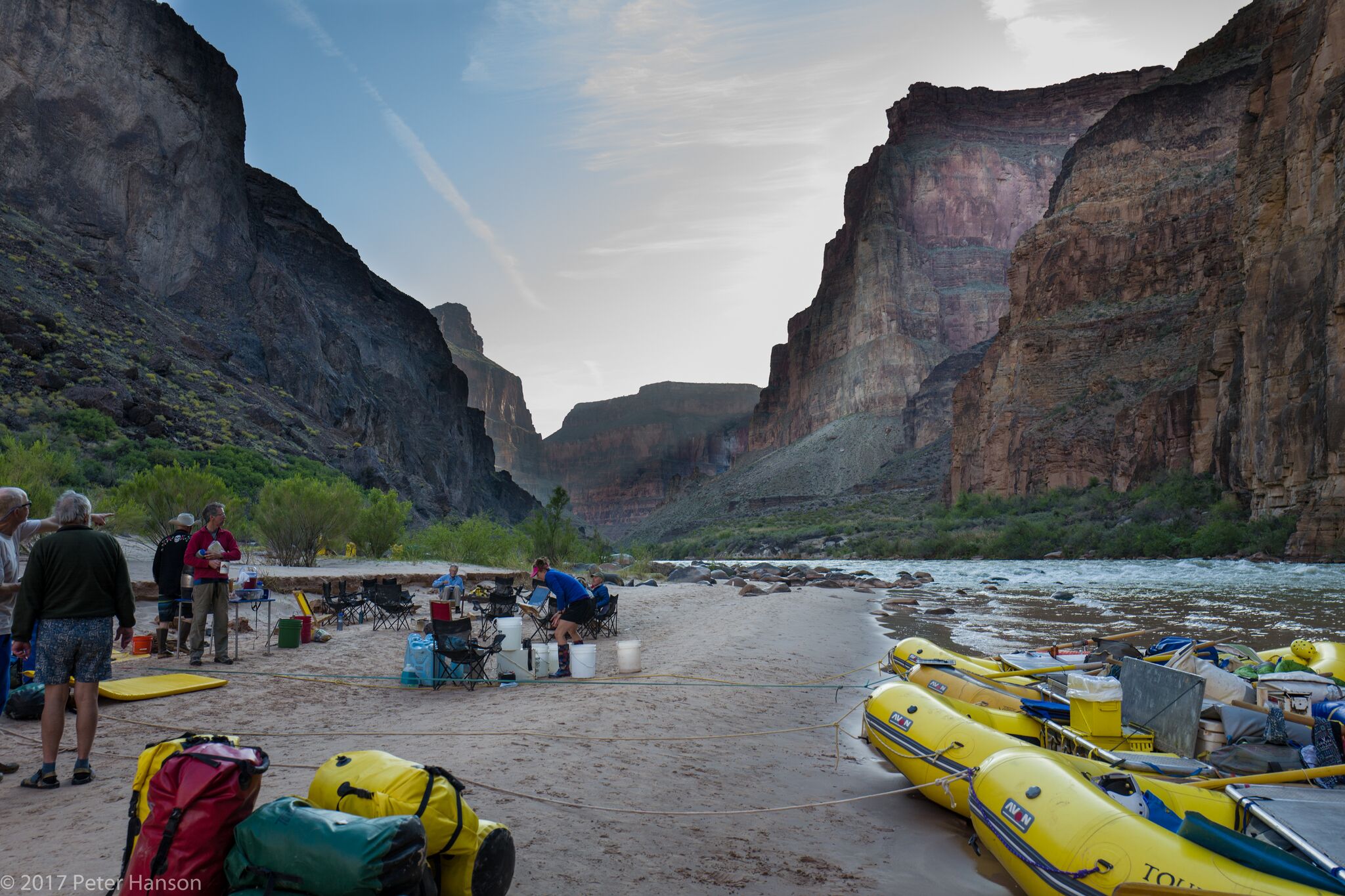 Day 1 Lees Ferry to Jackass Camp
Our adventure began in the midst of a late winter storm. As we huddled underneath the pavilion at Lees Ferry listening to the boatmen give their usual safety briefing we watched the rain turn to sleet. A great day to start an 18 day expedition into Grand Canyon. Someone from a prior trip once famously said "It's amazing how much discomfort you can buy with enough money." luckily for us, as we float downstream at our slow and steady pace of 4mph, the canyon seems to engulf our boats at a million mph. Within a few quite strokes, the Kaibab, Toroweap, and Coconino formations are a 1000 feet above, the rim a distant land that we have left far behind us. At camp we quickly became comfortable with one another as we huddled around the warmth of a fire that would sustain us until dinner. An early night to bed for all, as the following day would be filled with uncharted territory and new rock formations for many in our group.
Day 2 Jackass to CR mile 20L
We awoke from the sputtering of a nearby conch shell, an instrument some were determined to perfect by the end of our adventure. Following a hearty breakfast of eggs bacon and hash browns we packed up camp and continued downstream, delving deeper into the Kaibab monocline.
Day 3 CR mile 20L to 37.5 L
Day 4 CR mile 37.5L to 51.5L
Day 5 CR mile 51.5L to 52 R (Nankoweap)
Day 6 Nankoweap (52R) to Lava Chuar (65.5R)
Day 7 Lava Chuar (65.5R) to Grapevine (81L)
Day 8 Grapevine (81L) to Granite (95L)
Day 9 Granite (95L) to Lower Bass (109 R)
Day 10 Lower Bass Layover Day
Day 11 Lower Bass (109R) to Blacktail (121R)
Day 12 Blacktail (121R) to Stone (132R)
Day 13 Stone (132R) to 145R
Day 14 145R to National ()
Day 15 National to Lower Lava ()
Day 16 Lower Lava to 194L
Day 17 194L to 216R
Our last full day.
Day 18 216R to Diamond Creek (226L)
The final miles are quite, our reflections guided by Jeri's Ave Maria and Pete's Ode to Joy. It is wild places like Grand Canyon and the experiences and opportunities we have here, a break from our lifelong routines, which allow us to reflect and grow into tremendous individuals. I think to myself if only everyone were as fortunate as us, to simply float downstream for 18 days.